Post by Michael on Apr 29, 2016 10:32:42 GMT
STED
: Letnany Airport, Prague, Czech Republic (Kapacitet: ?) (
Link
) (
Lokal Tid
)
INFO
: Gæstespillere: Doors open: 16:00.
Doctor Victor
: 17:00 – 17:45. Tyler Bryant and the Shakedown: 18:30 – 19:30. AC/DC: 20:00 – 22:00. Det tog AC/DC præcis en uge at afgøre hvilket lokalt band der skulle åbne i dag – valget faldt på Doctor Victor. Det forventes at der vil komme op til 100.000 tilskuere!!! Axls stemme virker en anelse slidt når han når op i de høje toner, knækker den en smule. Det kan tydeligst høres i Thunderstruck og Hells Bells. Bandet spiller "Dog Eat Dog" og "Touch Too Much" for første gang med Axl! Før "Touch Too Much" siger han: "
Earlier we heard a request in the crowd that the band haven't played in I don't know how long and I have never played so this should be interesting
." Showet sluttede 22:07.
AUDIO/VIDEO
: Mulig livestream ? (igen for mange skift!!!)
VARIGHED
: 120 min.
SANGE
:
Intro
Rock or Bust
Shoot to Thrill
Hell Ain't a Bad Place to Be
Back in Black
Got Some Rock & Roll Thunder
Dirty Deeds Done Dirt Cheap
Rock N' Roll Damnation
Thunderstruck
High Voltage
Rock 'n' Roll Train
Hells Bells
Given the Dog a Bone
Dog Eat Dog (?)
If You Want Blood
Sin City
You Shook Me All Night Long
Shot Down in Flames
Have a Drink on Me
T.N.T.
Whole Lotta Rosie
Let There Be Rock
(with Angus Young guitar solo)
Encore:
Highway to Hell
Touch Too Much (!)
For Those About to Rock (We Salute You)
KOMMENTAR
: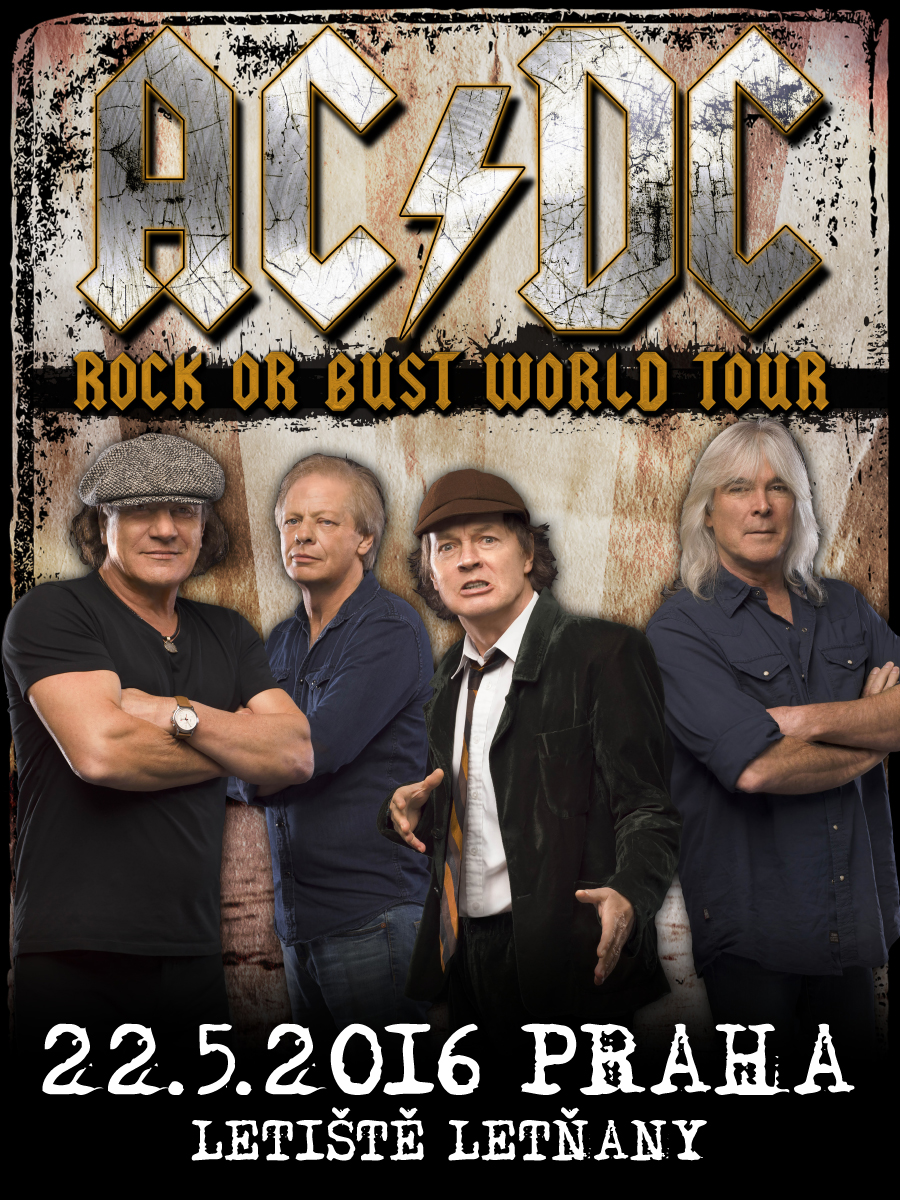 AC/DC – IMPORTANT AND PRACTICAL INFO FOR CONCERT VISITORS
THE ACDC CONCERT TO BE PRESENTED THIS COMING MAY 22nd, 2016 IN PRAGUE. ALL REFRESHMENTS AT THE CONCERT WILL BE COMPLETELY CASHLESS. YOUR ACDC RFID CARD WILL BE YOUR DIGITAL WALLET
The only method of payment accepted on the event site will be the ACDC RFID card. Each ACDC RFID card will be sold for a non-refundable value of 25 CZK. This 25 CZK fee will be taken from the first time you will Top Up Cashless credits, upon the opening of your Cashless account. This fee covers the administrative cost of opening the Cashless account as well as the administrative cost to close the Cashless account and receive back all unspent Cashless credit.
THE ACDC RFID CARDS WILL BE SOLD AT ENTRANCE ZONE AND AT ALL TOPUP KIOSKS LOCATED ALL OVER THE EVENT SITE.
ALL UNSPENT CASHLESS CREDITS WILL BEREFUNDED TO YOU AFTER THE EVENT
Ticketporal customers will be able to charge the card up at the venue. There will be dozens of charging stations; stations in the entrance area will be opened on the day of the concert from 9.00 pm.
More information and contact available at:
acdcprague2016.pay.intellifest.com
OFFICIAL MERCHANDISING OF AC/DC CAN NOT BE PAID WITH THIS CARD, ONLY CASH.
PARKING AND PUBLIC TRANSPORT
Parking will not be available for visitors at the AC / DC concert;
We would kindly like to ask all the concert visitors to use a public transport -metro C line - getting off at the Letňany Metro Station and after the concert again to use the same public transport – its service from 14:00 to 20:00 and from 22:30 to 24:00 will be significantly enhanced. For transportation from the eastern part of the city you can also take advantage of an enhanced 195 bus service on route Skalka - Vysočanská - Letňany.
Please note that there is a total lack of parking space at the location of the concert.
CLOAKROOM / LUGGAGE STORAGE – Cloakrooms and depositories are not available in the venue
oriantation map:
echopromotion.cz/files/ACDC_2016_mapa_a_harmonogram.jpg
prohibited items/ line-up:
echopromotion.cz/files/ACDC_2016_TZ_pokyny_AJ.pdf