Post by Michael on Apr 27, 2016 11:03:55 GMT

AC/DC med Axl Rose Rock or Bust Tour M. Tyler Bryant and the Shakedown

Maj
07 -
Passeio Maritimo De Alges, Lisbon, Portugal
10 -
Estadio De La Cartuja Seville, Spain
13 -
Stade Velodrome, Marseille, France
16 -
Festivalpark, Werchter, Belgium
(UDSOLGT)
19 -
Ernst-Happel Stadium, Vienna, Austria
(UDSOLGT)
22 -
Letnany Airport, Prague, Czech Republic
(UDSOLGT)
26 -
Volksparkstadion, Hamburg, Germany
29 -
Stade De Suisse, Berne, Switzerland
(UDSOLGT)
Juni
01 -
Red Bull Arena, Leipzig, Germany
04 -
The Stadium, Queen Elizabeth Olympic Park, London, England
09 -
Etihad Stadium, Manchester, England
12 -
Ceres Park, Aarhus, Denmark
(UDSOLGT?)
15 -
Esprit Arena, Düsseldorf, Germany




August

M. Tyler Bryant and the Shakedown
27 -
Greensboro Coliseum, Greensboro, NC
30 -
BB&T Center, Ft. Lauderdale, FL
September
01 -
Philips Arena, Atlanta, GA
04 -
Nationwide Arena, Columbus, OH
06 -
Quicken Loans Arena, Cleveland, OH
09 -
The Palace, Detroit, MI
11 -
First Niagara Center, Buffalo, NY
14 -
Madison Square Garden, New York, NY
17 -
Verizon Center, Washington, DC
20 -
Wells Fargo Center, Philadelphia, PA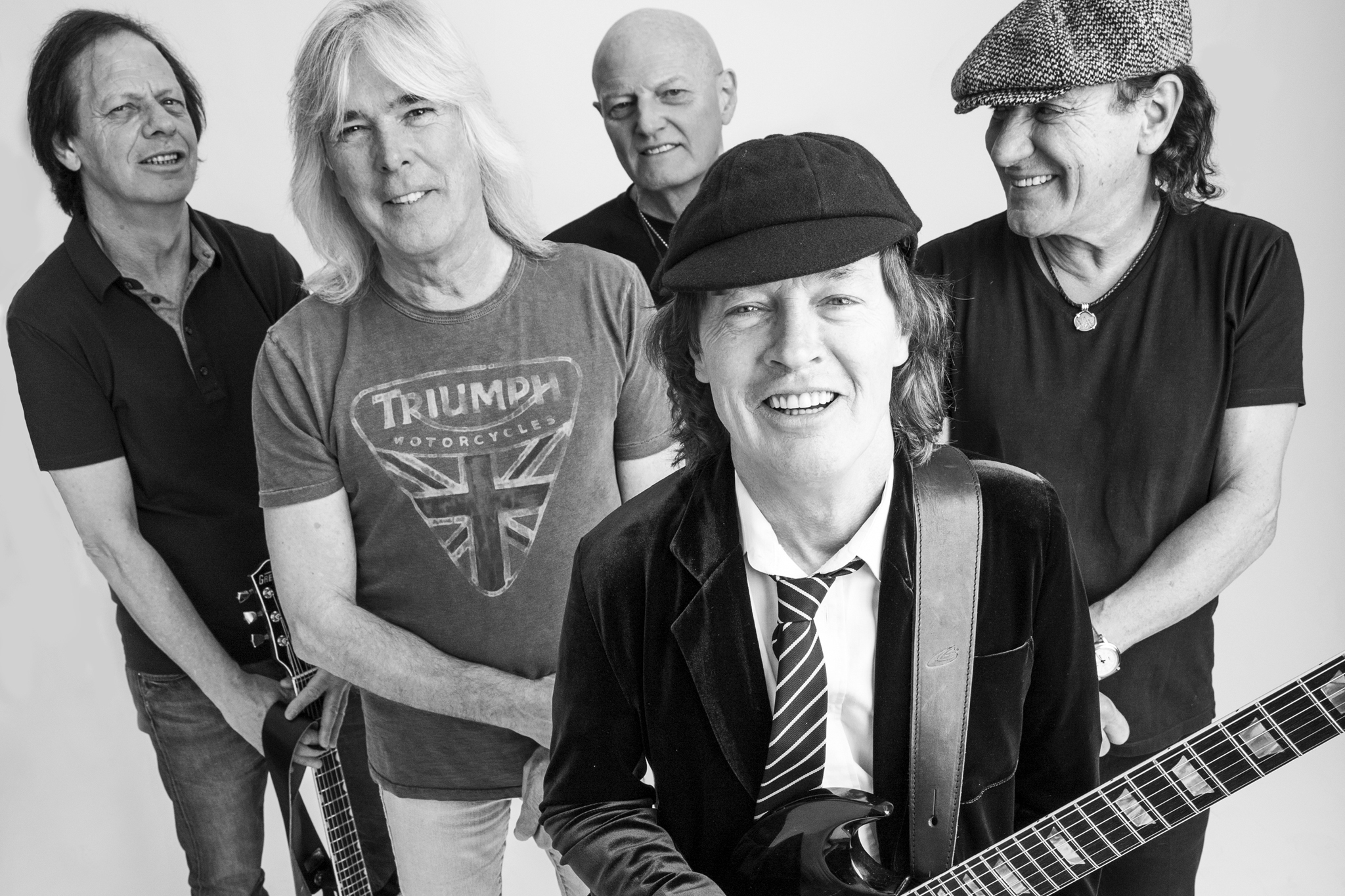 OM AC/DC:

1973-1974: Angus Young / Malcolm Young / Larry Van Kriedt / Dave Evans / Colin Burgess

Angus og Malcolm Young grundlagde AC/DC i november 1973, og hyrede bassisten Larry Van Kriedt, trommeslager Colin Burgess og sangeren Dave Evans. Der var en del udskiftning af medlemmer, der kom gennem svingdøren, bl.a. trommeslagerne Ron Carpenter, Russell Coleman, Noel Taylor og Peter Clack, før tingene blev mere seriøse det følgende år. De første mange måneders eksperimenter, begyndte først at tage rigtig form med deres bestemte lyd, efter at forsangeren Bon Scott sluttede sig til gruppen i 1974.


1974-1977: Angus Young / Malcolm Young / Mark Evans / Phil Rudd / Bon Scott

Selvom de indspillede en single med den første sanger Dave Evans, begyndte det ikke rigtigt at køre for bandet, indtil Bon Scott kom ind i billedet i september 1974, hvor han hurtigt bidrog til tekster og vokal til bandets debutalbum, "High Voltage, " der blev udgivet den følgende måned.
"T.N.T." fulgte efter den næste december, og selvom begge albums var udgivet eksklusivt i Australien og New Zealand, var det nok til at bane vejen for en pladekontrakt med Atlantic Records, der hastigt flikkede en kombination af de to første albums sammen, og "Dirty Deeds Done Dirt Cheap" fra 1976, der antydede den verdensberømmelse, som bandet snart ville nyde. "Let There Be Rock" fulgte efter i 1977, som fik AC/DC på Billboards hitliste for første gang.


1977-1980: Angus Young / Malcolm Young / Phil Rudd / Bon Scott / Cliff Williams

På trods af bandets succes, var AC/DC ikke helt komplet endnu – bassisten Mark Evans blev fyret i 1977 og erstattet af Cliff Williams – begge var en sikker afspejling af den måde, bandets lyd var begyndt at hænge sammen omkring Scotts vokal og Young'ernes guitarer. Desværre var de aldrig i stand til at opdage hvor langt de kunne have taget denne inkarnation af gruppen. Scott nåede at indspille hans sidste album med bandet "Highway To Hell", og døde af alkoholforgiftning den 19. februar 1980, hvilket efterlod hans sørgende bandkammerater i sorg, og så skulle der ellers træffes en beslutning om de skulle fortsætte eller ej.


1980-1983: Angus Young / Malcolm Young / Phil Rudd / Cliff Williams / Brian Johnson

At erstatte en så karakteristisk sanger som Scott, var noget af en udfordring og mundfuld, for at sige det mildt. Men bandet var i den grad heldig, da de stødte på Brian Johnson. Scott havde rent faktisk været stor fan af Johnsons arbejde med bandet Geordie, og åbningsnummeret "Back in Black", på albummet af samme navn, var det let at se hvorfor. Johnson havde ikke kun en stemme som Scotts, men også evnen til at formulere charmerende tekster der udgjorde en stor del af AC/DC's sange. "Black" blev et verdenshit, og dette lineup, vred to yderligere hitalbums ud "For Those About to Rock We Salute You" (1981) og "Flick of the Switch" (1983) kort tid efter hinanden.


1983-89: Angus Young / Malcolm Young / Cliff Williams / Brian Johnson / Simon Wright

En støt voksende kløft mellem Malcom Young og Phill Rudd ender med at Rudd bliver erstattet af den 19-årige trommeslager Simon Wright i 1983. Desværre for Wright, kom han ind lige midt i en passiv periode, og hvor bandet tog længere og længere pauser imellem opgaver, hvilket havde indflydelse på hvorfor deres albums ikke havde den slagkraft på hitlisterne i 80'erne, som de engang havde. "Fly on the Wall" (1985) og "Who Made Who" (1986), bestod mest af alt af gammelt materiale, kombineret med soundtracket til den Stephen King-inspirerede film "Maximum Overdrive". Det var først i 1988 med "Blow Up Your Video", hvor der begyndte at komme penge ind på kontoen igen i høj hastighed – på det tidspunkt hvor Wright stod med foden halvt ude af døren, med et job i bandet Dio i 1989.


1988 Tour: Angus Young / Stevie Young / Cliff Williams / Brian Johnson / Simon Wright

Da Malcolm Young måtte gå glip af bandets "Blow Up Your Video"-tour pga sin behandling for alkoholmisbrug, behøvede de ikke at kigge langt efter en erstatning. Malcolm og Angus Youngs fætter Stevie udfyldte uden problemer rollen. Årtier senere vendte han dog permanent tilbage, dog under mere sørgelige omstændigheder.


1989-94: Angus Young / Malcolm Young / Cliff Williams / Brian Johnson / Chris Slade

På trods af problemet med Wrights exit, der blev løst med Chris Slade, havde bandet andre problemer at slås med i 1998/1989, der inkluderede Malcolm Youngs ufrivillige pause på en afvænnings-klinik, og Johnson's skilsmisseproblemer under sangskrivningen til det næste album "The Razor's Edge" (1990). Men da de fik løst de problemer, beviste de, at bandmedlemmernes kemi bestod, som det kunne ses på pladesalget og deres single "Moneytalks" der var på Top 40 hitlisten.

1994-2014: Angus Young / Malcolm Young / Cliff Williams / Brian Johnson / Phil Rudd

Årtier inde i den enormt succesfulde karriere, begyndte bandets produktion at dale i løbet af 90'erne – og ikke mindst fordi Young-brødrenes kreative safter begyndte at tørre ind, så op-blussede de gamle fejder, som gjorde at Rudd gik sin vej. I 1994 blev han dog inviteret tilbage til bandet, hvor han har opholdt sig de sidste 20 år. Kort efter bandets 40 års jubilæum blev det afsløret, at Malcolm Young var ramt af en uspecificeret sygdom (Demens). Han var ude af stand til at medvirke på optagelsen til "Rock og Bust" albummet i 2014, og i september samme år, blev det meddelt, at han ikke ville vende tilbage til bandet.


2014: Angus Young / Cliff Williams / Brian Johnson / Phil Rudd / Stevie Young

Stevie Young blev permanent afløser for Malcolm Young, og medvirkede på optagelserne til "Rock Or Bust" albummet, og tog med dem på turne i 2015. Phil Rudd spillede trommer på albummet, men hans juridiske problemer gjorde det nødvendigt at lave endnu en ændring før turnéen begyndte.


2015-16: Angus Young / Cliff Williams / Brian Johnson / Chris Slade / Stevie Young

Med Rudd's retssag, hvor han blev erklæret skyldig i besiddelse af methamfetamin, cannabis og mordtrusler, vendte bandet sig mod den tidligere trommeslager, Chris Slade, der erstattede Rudd på "Rock Or Bust"-turnéen.


2016 Tour: Angus Young / Cliff Williams / Chris Slade / Stevie Young / Axl Rose

Som om at bandet ikke har gået rigeligt igennem i årtier og de seneste år, blev Brian Johnson pludselig beordret at stoppe med at turnere af sine læger nær slutningen af deres "Rock Or Bust"-turne. Det kom frem, at han var tæt på at få permanente høreskader hvis han fortsatte med at optræde live igen. Bandet ville dog fortsætte med at spille færdig med "en speciel gæstevokalist".
Det var åbenbart ikke en spøg, da det blev meddelt, at GnR's frontmand, Axl Rose, ville overtage de sidste koncerter.


LINKS
:
www.acdc.com/tour
www.acdc.com/news?n_id=278
www.rollingstone.com/music/news/ac-dc-confirm-axl-rose-is-new-lead-singer-joining-band-on-tour-20160416
en.wikipedia.org/wiki/Rock_or_Bust_World_Tour